Landspeed programme for February 10th 2019
Results from past events are available here.
The dates for the next Landspeed Association speed trials at Goudies Road have been confirmed and they are:
Sunday 10th February 2019
Entries are NOW OPEN for this event! Get your entry in (places are limited) using the following links:
Join as a Landspeed NZ member (you must be a member to attend the event)
Enter your vehicle for Goudies Road, 10th Feb 2019 ;OR Download the Registration form and email to us.
Please see full details below and keep an eye on our Facebook page for updates and announcements relating to the event.
Goudies Road, 10th February 2019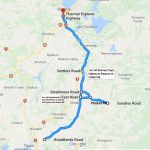 We will be hosting landspeed trials for cars and motorcycles on Goudies Road (near Reporoa, Waikato) on the 10th of February 2019. Please see Locations for more information about Goudies Road.
With the exclusive use of 5.8 kilometers of straight flat road, this event will allow you to find out what your vehicle's maximum speed is.
The middle quarter mile (402m) will be timed using Tag Heuer equipment, and you will be issued with a certificate for your speed. The quarter mile has been professionally surveyed, and has less than 1% deviation. Between the surveyed distance and the Tag Heuer timing equipment, you will get a very accurate result.
This event is open to road and race vehicles.
Motorcycles will fall under either "Blown" (turbo, supercharger or nitrous) and "Naturally Aspirated". Engine capacity classes are:
50cc
125cc
250cc
500cc
750cc
1000cc
1350cc
1650cc
Open/Unlimited
Cars will fall under either "Blown" (turbo, supercharger or nitrous), "Naturally Aspirated", or "Diesel" (including turbo diesels). Engine capacity classes are:
750cc
1100cc
1500cc
2000cc
3000cc
5000cc
8000cc
Open/Unlimited
Please keep an eye on our Facebook page for updates, and footage from the event will be uploaded there at a later date.
Entry fees/tickets
Entry fee for a competition vehicle (car or motorcycle) is $250. You must also be a current LSNZ member, membership for participants is $100 per year. Click here to download the LSNZ membership form. Your vehicle entry also includes 3x pit crew passes for your support team, and you can purchase up to 3x additional passes at $10 each.
Spectator entry fee is $20 per person, includes free parking.
Information for attendees
If you would like more information on this event, please contact us.
Please note that the northern end of Goudies Road is gated and LOCKED in the forest, there is no public access this way. Enter via Plateau Road, when you get to the end of Plateau turn left onto Goudies and this will bring you to the event.
If you are looking for accommodation, the closest main centers are Rotorua to the north and Taupo to the south. If traveling from the north, pay heed to the above notice about the road being locked; make sure your GPS or Google Maps directions don't try to take you that way.
Please note:
No pets allowed. The consequences of an animal wandering onto the course are too great; please leave your pets at home.
No smoking, including vapor units. This is important; not only are we are within a forestry area but our safety crews are on constant lookout for ANY smoke, cigarettes or vaping devices could trigger a false alarm which would shut down the event while it is investigated.
No alcohol. Alcohol and motorsport don't mix, please wait until after the event before celebrating with a drink, even if you are a spectator.
No children under 13, unless they are the immediate family of a participant.
Please remember that motorsport is dangerous, the above rules are for everyone's safety and to ensure we stay within the conditions of our use of Goudies Road.
Keep an eye on the LSNZ Facebook page for updates in relation to the event.

Landspeed programme for 10 Feb 2019 edited 3 11th Nov 2018
Regardless of what day it is, this is the days Schedule.
Spectators put a $20 donation into the box has entering pit area